It's a well known fact, that banks and governments generally despise cryptocurrency, as it's main goal is to cut out middlemen in financial transactions(which is what the banks around the world make most of their money from).
In recent times there has been outrage, regarding banks blocking transactions sent and received via cryptocurrency trading exchanges. Banks have made threats pertaining to the ban of crypto-trading, in an effort to kill/damage cryptocurrency trading as a whole…. However, we had not seen a mass application of a "trade ban" until last week…
The LocalBitcoin volume explosion in Canada is probably related to the fact that Canadian banks have started to ban crypto purchases: https://t.co/0qfeLQ5RhG * https://t.co/21KHpqZVNx

— tofi (@zergbur) April 8, 2018
Canadian Banks Did What?
BMO(one of Canada's popular banking institutions), TD, and CIBC have one by one made the decision to block all transactions to all online cryptocurrency exchanges. Many other banks have followed suite, in blocking Credit card purchases via exchanges and it seems that who's banned what, changes everyday.
This has given many Canadians no way of trading their Canadian Dollar, for crypto(bitcoin, litecoin, etc). However, with the use of a helpful site called localbitcoins.com, blockchain enthusiasts have continued purchasing and selling Bitcoin, and managed to avoid the use of banks for trading all-in-all.
Why Canada?
Banks around the world(not only in Canada) seem to have picked up the trend of denying cryptocurrency transactions. For example, Lloyds Banking Group(Biggest UK Bank), Bank of Scotland, Citibank, and many others have done the same…
Banks don't like the fact that blockchain is coming to a rise, since it replaces the reason for their existence. Regulation of currency, and a middleman that's used to transfer currency.
It appears that banning any exchange transactions is the best way that they can prevent use of cryptocurrency, and while it does affect the crypto environment… It will never be able to exterminate it.
What Is LocalBitcoins.com?
LocalBitcoins is a site that's been around since the dawn of Bitcoin. It's a site that connects average traders with eachother, and allows them to meetup in person, and trade BTC for cash with no fee's. Unlike an exchange, or bank, It's just good ol'e peer to peer trading.
Of course these trades come with some inherited risk, as it's essentially a craigslist meetup, for cryptocurrency… And you don't have the comfort of sitting in your home, and clicking a button to trade. Although, it is better than not being capable of trading at all, right?
After the ban of exchange related transactions, traffic to localbitcoins.com, has taken a massive spike(below).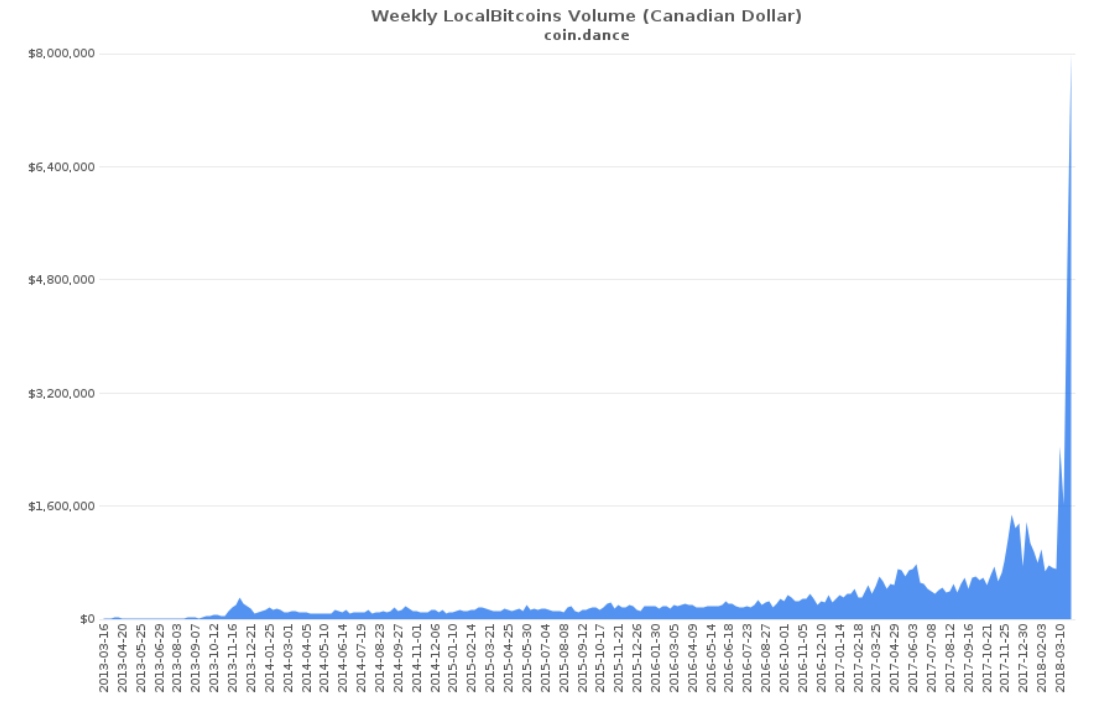 What Does This Mean?
This is our first hard evidence that cryptocurrency is impossible to stop. We can all rest assured knowing that if the banks and governments decided to stop allowing cryptocurrency trading… It will still happen.
Cryptocurrency is here to stay, no matter how bad the banks want it fade away or "pop".